'Company Men' shows reality of job loss
(Read article summary)
The film gives a realistic look at how job loss can cause loss of identity and purpose.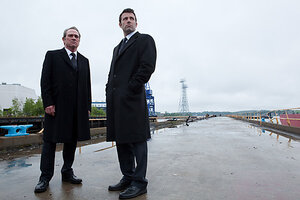 Company Men Productions/Album/Newscom
All of a half dozen people turned out to see The Company Men the other night at the local theater. The film has been hammered by critics and hasn't yet grossed $4 million. However, the film, with a production budget of $15 million, and plenty of star power with Ben Affleck, Kevin Costner and Tommy Lee Jones, has a story that is much better than the critics appreciate.
Not many movie critics can relate to a character that went to the right school and earned an MBA because that is supposed to guarantee career success. None of them played the corporate game well enough to become regional sales manager at 37 and make a buck twenty a year plus bonus, have a Porsche, a big house, country club membership, a boy, a girl, and size zero wife, Patriots season tickets, and all the associated debt and obligations that go with it.
So when Bobby (Affleck) strolls into the boardroom, proudly announcing to his sales staff that he shot 44 on the front and 42 on the back that morning, but then in the next minute is called into human resources and canned, with GTX (the fictional conglomerate) only paying 12 weeks salary plus out placement services, he's stunned.
Elisabeth Kübler-Ross's five stages of grief then proceed. Denial: Bobby thinks he'll get a job right away. No reason for belt tightening. Anger: Bobby believes the company screwed him after 13 years of loyal service and division head Gene McClary (Jones) betrayed him. Bargaining: OK, Bobby resigns himself to cutting back on expenses and he goes to work for the smug brother-in-law he hates (Costner), humping plywood and buckets of mortar up multiple flights of stairs each day. Depression: Bobby losses interest in the bedroom and tells his wife he's sorry he let her down. Acceptance: Bobby and wife Maggie (Rosemarie DeWitt) spend more time with each other and the kids, while Bobby starts to actually enjoy his construction job.
---