Can media piracy be stopped?
(Read article summary)
Media piracy is rampant in emerging economies. A new study looks at how it can be controlled.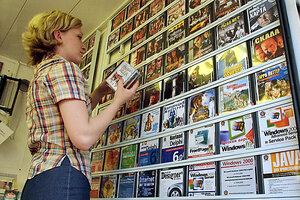 Mikhail Metzel / AP / File
Surprise! You can't stop the flow of media piracy with every-more-draconian measures. This stunning conclusion was recently published last week by the Social Science Research Council, as a report called "Media Piracy in Emerging Economies". The study focused on emerging economies, where media piracy is rampant, like Brazil, India, Russia, South Africa, Mexico and Bolivia. The report argues that efforts to enforce copyright law have largely failed, and that the problem of piracy is better conceived as a failure of affordable access to media in legal markets. Of course, without the state-granted monopoly on copyright, the media commodities being traded on the black market would quickly find the price the market is willing to pay.
What did 35 researchers discover after 3 years of studying the problem? Their answers could have been lifted from an Austrian Scholars Conference (maybe they pirated them…)
---
Follow Stories Like This
Get the Monitor stories you care about delivered to your inbox.