High-functioning 'short sleepers' make good entrepreneurs
(Read article summary)
Up to three percent of the population needs fewer than six hours of sleep each night to function well. Being highly productive and having plenty of time are advantages for an entrepreneur.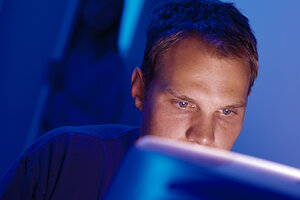 Photo illustration/Ron Nickel/Design Pics/Newscom
The Wall Street Journal's Melinda Black has an interesting piece in today's edition entitled "The Sleepless Elite." One to three percent of the population require less than six hours of sleep to function well. In fact, she points out that not only do these short sleepers function, but they are upbeat, tend to be thin and energetic.
Short sleeper go all out, all the time. "These people talk fast. They never stop. They're always on the up side of life," says Daniel J. Buysse, a psychiatrist at the University of Pittsburgh Medical Center and a past president of the American Academy of Sleep Medicine, a professional group.
"Benjamin Franklin, Thomas Jefferson and Leonardo da Vinci were too busy to sleep much, according to historical accounts. Winston Churchill and Thomas Edison came close but they were also fond of taking naps, which may disqualify them as true short sleepers," writes Black.
---