Is Sin City turning into the Motor City?
(Read article summary)
The financial crisis knocked Las Vegas flat. Will it suffer the same woeful fate as Detroit?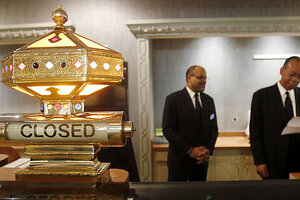 Isaac Brekken / AP
Howard Gold takes a look at two, one-horse towns–Detroit and Las Vegas. Both fell down in the financial meltdown and can't get up. Not yet, at least.
Home prices have fallen over 58% in Las Vegas from the peak in 2006, more than any other major city. More than 70% of homeowners are underwater. Unemployment was 13.3% in March and last year the state reported a population decline for the first time in 90 years.
As Gold points out, Las Vegas Sands and Wynn Resorts are making their numbers half a world away in Macau. Macau's gaming revenue is now four times that of the Las Vegas Strip, reaching $23 billion last year.
Ironically, the "new Detroit" title Gold uses, was a favorite phrase of the Culinary Workers Union Local 226. It was always the belief that D. Taylor's maids, bartenders and cocktail waitresses could not be moved offshore. So pile on the work rules and demands because gamblers aren't going anywhere else, the union brass figured.
---