Germany loosens up about regulating store hours
(Read article summary)
Once strict laws about when shops can open and close are starting to be relaxed, much to the chagrin of labor unions and regulators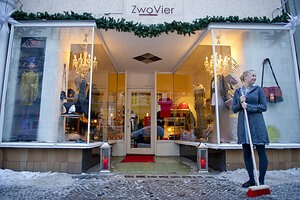 Ann Hermes / Staff / File
A really cool thing is happening in Germany. After decades of strict laws regulating when stores can open and close (Ladenschlussgesetz), the laws are progressively liberalizing. Since 2006, the decision has been left to the individual states. Whereas commercial establishments once could not open their doors before 6 a.m. or keep them open past 10 p.m., now many open earlier and close later.
Consumers are celebrating, while labor unions and regulators are not.
In the United States, we have no national history of such laws, apart from restrictions on Sunday shopping, which are left to the states and counties. And even with these so-called blue laws, the general trend has been toward liberalization.
The subject intrigues me because it is like many other such subjects that touch on the very viability of liberty itself. If you were to think this issue through using what F.A. Hayek calls a "constructivist" mindset — the presumption that society is a giant Lego model with pieces that must be assembled and disassembled at will — it is not difficult to dream up many seemingly reasonable arguments for why a commercial society must have such laws. Do we really want to leave such things to the "anarchy of the market"?
---