Unpaid internships: Who wins, who loses?
(Read article summary)
Unpaid internships can teach valuable jobs skills to young people who wouldn't get them otherwise – but people who can afford to take unpaid internships may already be well-off.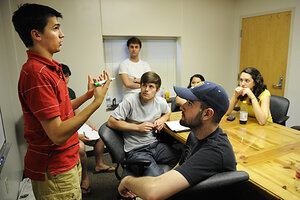 Mary Knox Merrill / Staff / File
People respond to incentives. When governments change incentives, people respond in ways that produce unintended results. The law of unintended consequences has come to the fore recently in a discussion over the legal status of unpaid internships. If you subscribe to Arts & Letters Daily, you probably saw a link to this piece, which reviews a recent book on unpaid internships. If you can look past the style that seems to be typical of articles and reviews that view the capitalist process as a plutocratic conspiracy, you see some very important points that remind me of an article I wrote a couple of years ago.
I expect that studies of the early 21st-century labor market will show that the rise of the unpaid internship is a direct consequence of labor market rules and regulations of which the minimum wage is only the most conspicuous example. The author–former Harper's editor Roger D. Hodge–points out that unpaid internships have replaced summer jobs for a lot of teenagers and college students because a lot of summer jobs have simply disappeared. The reason for this is pretty straightforward. Labor market regulations make teenagers and college students prohibitively expensive to hire, which means that a lot of jobs that would otherwise exist have simply disappeared. In a recent article, I discussed new research by economists William Even and David Macpherson estimating that the 2007-2009 minimum wage increases caused more job losses than the recession among young African Americans.
---