Sweatshops, tacos, and Wal-Mart: Is there anything to criticize?
(Read article summary)
Anti-sweatshop and anti-Wal-Mart movements are usually based on arguments that are just plain wrong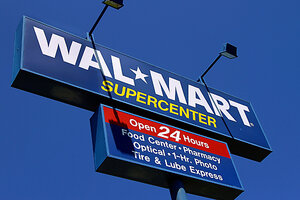 Seth Perlman/AP
I discussed sweatshops and immigration in my Forbes column a few weeks ago. Since then, I've seen a couple of great posts on sweatshops and exploitation from Mark Pennington and Matt Zwolinski.
Pennington makes the curious point that the case for sweatshops is usually met with derision, scorn, and moral outrage even though it is based on intro-level economics and what is, in my opinion, very persuasive evidence comparing sweatshop wages and working conditions to the workers' alternatives. Zwolinski asks why we cast so much aspersion on sweatshop employers who are actually paying wages and offering opportunities to their workers and do not criticize those of us who are sitting at home doing nothing or next-to-nothing for the poorest of the world's poor.
I'm at a bit of a loss to understand why the cases for free trade and against minimum wages and rent control are not merely ignored but angrily resisted. Bryan Caplan proposes what I think is a useful mechanism: for the activist, results take a backseat to signaling the correct affiliation. If the social context is one in which showing that you care matters more than anything else, we might be able to understand the persistence of erroneous beliefs about economic issues. Dropping the anti-sweatshop petitions and picking up the banner of free trade isn't likely to make a big difference in the grand scheme of things, but it might lose you a few friends.
---