Is the Fed manipulating the stock market?
(Read article summary)
Stock prices are no longer based on buyers and sellers, but instead, on the US central bank. Here's how.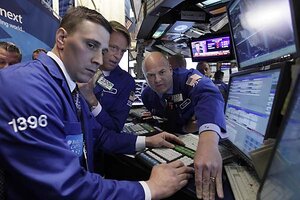 Richard Drew / AP
"Bernanke comments keep equities in check," says a headline in The Financial Times.
Sure enough. The Dow ended down again – 21 points down. It's been going down for five weeks. But it's still above 12,000. So there's nothing to be alarmed about.
What did Ben Bernanke say? Not much really. He allowed as to how the economy was not as strong as he had hoped. But he said things were getting better. And he didn't mention QE3.
So why was the market unhappy? What difference did it make what Bernanke said?
Ah…that's the funny thing. Stock prices are now the responsibility neither of willing buyers nor sellers, neither of the bears nor the bulls…but of the US central bank.
Bernanke said he wanted higher stock prices. He used QE2 to boost them. He said the "wealth effect" would make people feel better off. Then, they'd spend more money. And then, they'd actually be better off.
Of course, you can see the problem with that. If it were that easy to make people richer, why not give them more quantitative easing every day of the week?
Instead, investors know how the game works. They know you "don't fight the Fed." So, if the Fed is trying to push up stock prices with cash and credit, you go along for the ride. You buy stocks, confident that the Fed has your back.
The economy actually gets worse…as higher prices sit on family budgets like a fat cowboy on a skinny horse.
And so, the stock market comes to reflect neither the economy nor what stocks are worth. Instead, it shows what speculators think they can make from anticipating Ben Bernanke's next move. They watch the Fed. If Bernanke looks like he is going to pump in more money, they buy. If they're not sure, they wait. If they think the Fed is pulling out of the stock market, they sell.
---