Are higher education skeptics elitist?
(Read article summary)
With only about half of college graduates working jobs that require a degree, Americans should question the value of a college degree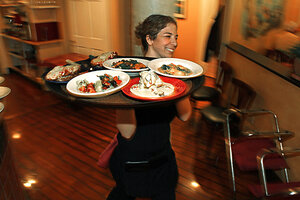 Toby Talbot / AP / File
In a piece entitled, "Even for Cashiers, College Pays Off," David Leonhardt looks to throw cold water on the idea that college just isn't worth it. Europe has it wrong that some kids shouldn't even go to high school. Thank goodness America got it right, writes Leonhardt.
The evidence is overwhelming that college is a better investment for most graduates than in the past. A new study even shows that a bachelor's degree pays off for jobs that don't require one: secretaries, plumbers and cashiers. And, beyond money, education seems to make people happier and healthier.
Leonhardt says that The Hamilton Project studied the issue and found that college tuition provides a 15% return, much better than stocks (7%) and real estate (1%). Leonhardt claims,
Construction workers, police officers, plumbers, retail salespeople and secretaries, among others, make significantly more with a degree than without one. Why? Education helps people do higher-skilled work, get jobs with better-paying companies or open their own businesses.
The NYT provides a graphic to illustrate Leonhardt's point. Dishwashers without a college degree pull down $19,000 a year, while dishwashers with a college degree make $34,000. The later number comes to over $16 per hour. But why would the local Appleby's shell out $16+ for dishwashers when they could hire someone at minimum wage?
Hairdressers with a degree command $32,000 according to the Center on Education and the Work Force at Georgetown University, while those that start cutting and styling without, make only $19,000. Next time you're in Great Clips for a trim look for diplomas on the wall next to the framed cosmetology licenses.
---