Market rally like the 1970s?
(Read article summary)
In the 1970s, a bear market was disguised by a series of market rallies. Some think a similar phenomenon might be occurring now.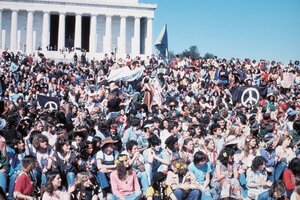 United Artists/Album/Newscom
02/17/10 London, England – Yesterday's big move in the Dow throws us back to our customary position – uncertainty, bordering on da-daism. The Dow rose 169 points yesterday. Gold shot up $29 to $1119.
"I think, therefore I am," said Rene Descartes. How did he know he thought? And what if he thought he wasn't? Would he not be? He should have tried following the stock market! It would have improved his philosophy. "I think I think," he would have emended his famous quotation. "But maybe I don't…"
Yesterday morning we were uncertain about the direction of the stock market. By evening, we weren't so sure… We thought the markets were headed down. But yesterday's strong showing puts our hypothesis in doubt.
Why should stocks go down? Because they're-priced for a strong recovery. But we're not getting a strong recovery. We're not getting any recovery at all. Investors were bound to notice, sooner or later.
A new index of the trucking industry – based on how often they fuel up their big rigs – fell 37% in January, from a big rise in December. Neither unemployment nor housing show any sign of real improvement.
Greece is on the edge of default. China sits on the Great Wall like Humpty Dumpty…threatening to fall off at any moment.
And yet…there is still no big sell-off in the stock market. Why?
Our old friends Mary Anne and Pam Aden recently suggested that this market was like the period in the '70s when a bear market had already begun – years before – but which was marked by a couple of major rallies. The rallies lasted about 17 months each. And each time, the Dow approached its previous high.
---