Inter-galactic bailout?! The Fed reaches beyond borders
(Read article summary)
According to some reports, the U.S. Federal Reserve plans to bail out Europe by adding cash from the International Monetary Fund. What next?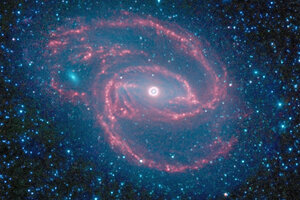 NASA / AP / File
The Fed is now bailing out the whole world! But who will bail out the Fed?
After the news came out yesterday, the Dow rose 249 points. Gold was up $2.
Here's the latest from Bloomberg:
Stocks jumped, sending US benchmark indexes to their biggest gains in three months, while the euro and commodities rallied and Treasuries slid amid improving data on the American and Chinese economies and speculation of a larger effort to end Europe's debt crisis.

The Standard & Poor's 500 Index gained 2.2 percent, the most since Sept. 1. The MSCI Emerging Markets Index rose 2.2 percent, its biggest gain since Aug. 2. The euro rebounded above $1.31 while Spanish 10-year bonds snapped an 11-day drop. The rate on 10-year Treasury notes increased 17 basis points to 2.97 percent, a four-month high. Oil and copper advanced more than 3 percent. After the US close, S&P 500 futures added 0.1 percent at 7 p.m. in New York and Japan's stocks rose in early trading.

European Central Bank President Jean-Claude Trichet said yesterday that investors are underestimating policy makers' determination to halt the region's debt crisis and shore up the euro ahead of a meeting of the bank's Governing Council tomorrow.

The Dow Jones Industrial Average surged 249.76 points, or 2.3 percent, to 11,255.78. The Dow has rallied in December more than in any other month over the last century, according to Bespoke Investment Group. The 30-stock gauge rose 1.3 percent on average in the month during the past 100 years and gained 1.5 percent and 1.7 percent over the last 50 and 20 years, respectively, the Bespoke data show.
---