Never surrender: Fed fights failure with more of the same
(Read article summary)
The current policy of quantitative easing has had the opposite effect from what was intended, but the Fed is staying the course.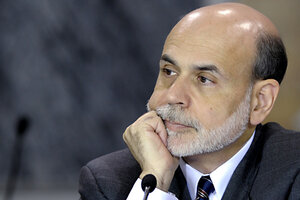 Susan Walsh / AP / File
"Shoot, if you must, this old gray head,
But spare your country's flag," she said.
A shade of sadness, a blush of shame,
Over the face of the leader came;
The nobler nature within him stirred
To life at that woman's deed and word:
"Who touches a hair of yon gray head
Dies like a dog! March on!" he said.
– John Greenleaf Whittier, "Barbara Frietchie"
It's the Ides of December, if December has ides. Some months do. Some don't.
Yesterday, we drove up to Frederick, Maryland. It is the site of the encounter – fictional – between Stonewall Jackson and an old woman. More on that, below…
But you're probably wondering what the Fed's FOMC did yesterday, aren't you? You're not? Well, good for you. You must have a life. Or a brain.
Those of us who are condemned to follow such things found out that the Fed is standing pat. You can imagine how that stirred our blood. We had barely slept wondering what the Fed would do. We had worn out the carpet, pacing back and forth. And now we discover that the Fed will do nothing!
The "recovery" is too weak to raise rates, said the Fed. And the economy may need more stimulus, it added; so it will stick with its plan to buy $600 billion worth of US government debt.
You'll remember that the Fed purchases were supposed to drive down long-term interest rates so that mortgage borrowing and capital investment increased. But instead of falling, long-term rates went up.
---