Worlds apart: a firsthand look at emerging market growth
(Read article summary)
Emerging markets have vigor and energy that the huge American market seems to lack.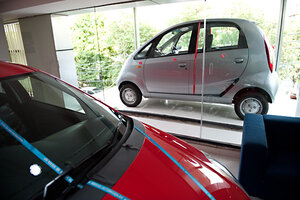 Mary Knox Merrill / The Christian Science Monitor / File
Yes, we're back at home, after flying around the world. It was a good trip. No problems. No hassles. Everything went well.
What was the point?
"You know, my friends and relatives in the states still believe that the US is the greatest place in the world," explained an American in Melbourne, Australia. "They think the rest of the world is full of poor people who can't wait to emigrate to the US. They need to get out more."
So we get out. We open our eyes. We look around.
And what do we see?
We see a whole world full of people who are hustling and bustling…schlepping and bussing…each trying to gain an advantage…each looking for a way to get richer, faster.
The motivations all over the world are about the same. People generally want wealth, power and status. And they want to get it in the easiest possible way. But it can mean different things to different people…and they go about it differently too. In the mature economies, they look for subsidies and angles. Tax breaks. Bailouts. Boondoggles. Sinecures.
"We have plenty of corruption here in India, too," a colleague noted. "But most people know they can't get much from the government. They have no choice. They have to start a business or get a job."
Nothing stands still. A few years ago, the Russkies, the Indians and the Chinese were all very helpfully sitting on the sidelines. With their goofy theories and their counterproductive policies, they posed no competition. Americans found it easy to feel superior. Half the world had tied its hands behind its back.
---