Will France be the next euro nation to fail?
(Read article summary)
France's recovery is lagging far behind Germany and Britain.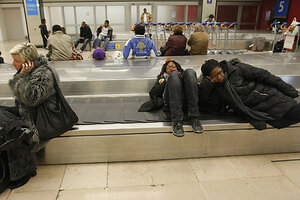 Jacques Brinon/AP
Europe is falling apart and economies both small and large aren't immune to fears of a meltdown. While Spain and Italy are getting the most attention, you also need to pay attention to France. With the country's negative economic numbers and wide exposure to both Greece and Spain, the future doesn't look good for Les Bleus, which is even worse news for the euro (EUR).
Not surprisingly, the markets are in agreement with this bleak picture. The cost for insuring French debt soared to a record on December 20 – rising above insurance costs for the Czech Republic and double that of Europe's largest economy, Germany.
Since the beginning of the year, the French economy has just barely crawled along. Growth has been kept to a minimum, with quarterly gross domestic product figures barely above 0.5%. Together, this is making for a pretty poor annual performance. The French economy is expected to expand by a low 1.4% this year – much lower than the 2% growth rate in the United States.
---