Rising food prices and the Fed's shady alibi
(Read article summary)
The Fed says it's not to blame for rising food costs. But could its money printing be a cause?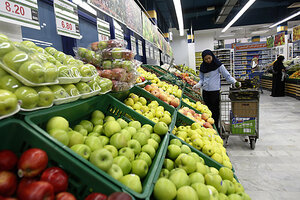 Jumana El Heloueh / Reuters / File
The Dow rose another 29 points on Friday. Gold lost $4.
Which is to say, nothing much happened one way or the other. Unemployment data came out, moving the unemployment rate down to 9%. But there were suspicious adjustments in the numbers. From the reports we read, nobody really knew if the numbers were good or bad.
The more interesting news continues to come from America's central planners. At least, they are entertaining…in roughly the same way that TV shows such as 1000 Ways to Die or Jackass are entertaining.
Maybe it's just human nature. But it's fun to watch people do stupid things – sometimes, even when they're fatal.
And now comes Ben Bernanke, chairman of the US Federal Reserve, former chairman of the Princeton Economics Department, with a claim so dumb that we don't what to think. What's the matter with Princeton? What's the matter with economics? What's the matter with the Fed? What's the matter with Ben Bernanke?
The Telegraph has the report:
Ben Bernanke…has dismissed the idea that the central bank's policies are to blame for the rise in global food prices to a record high…
Now, let's see. The Fed adds $2 trillion to the world's supply of "hot money." Maybe that has no effect? What do you think? The Telegraph continues:
---