Time to invest in Japan?
(Read article summary)
Some financial experts say now is the time to buy and hold Japanese stocks.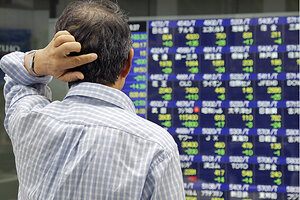 Koji Sasahara / AP / File
Nothing much to report from the markets yesterday. The Dow was down 79 points. Gold rose $5.
So, let's look across the wide Pacific…to the land that invented suicide bombing. Did we update you on our "Trade of the Decade"? We did? We thought so…
And here's our old friend Marc Faber…with the same idea (or at least half of it.) Buy Japanese stocks, he says…
After a two-decade bear market, now is the time to buy and hold Japanese stocks, Marc Faber, publisher of the Gloom, Boom & Doom report, said.

Faber, who is credited with predicting the 1987 stock market crash and said two years ago that shares would decline just as they began the biggest rally in more than 50 years, said the Japanese government will be forced to print money to monetize the country's public debt, the developed world's biggest. That will cause the yen to weaken, helping boost earnings for the nation's exporters and buoying stock prices.

Faber joins other bullish investors on Japan, such as Goldman Sachs Group Inc. and David Herro of Oakmark International Fund, in countering skepticism about Japan earned through four recessions and dismal stock returns after the 1990 crash of the bubble economy. The Nikkei 225 (NKY) Stock Average has fallen about 73 percent since it peaked in December 1989.
---