Oil prices, world markets affected by Japanese quake
(Read article summary)
Oil prices have dropped, and currencies in Japan, China, and Singapore will be affected.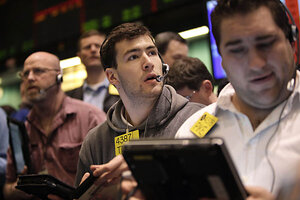 Seth Wenig / AP
The currency markets stuck to their established pattern on Thursday with the dollar pushing up versus the majority of the majors. As you have undoubtedly heard by now, Japan was rocked with an 8.9 magnitude earthquake and slammed by a tsunami shortly after. This is the news that is dominating the markets, so I will break from my usual pattern of talking about the US first, and instead, begin in the west and work my way east.
The earthquake, which shook Northern Japan during their afternoon was the worst quake to hit Japan in over 300 years. The quake generated a Tsunami that slammed into the northeast coast of Japan causing additional damage. Surprisingly, the Japanese yen (JPY) rallied after the quake. This seems to be counter to what you would expect, as you would expect any catastrophic event to have a negative impact on the victims' currency. The quake that hit Christchurch, New Zealand is a good example, as the kiwi (NZD) has been sinking ever since it hit. But the Japanese yen rallied. After digging a bit, I uncovered what seems to be the reason. Japanese investors are big savers, but rates in Japan have been near zero for over a decade. These Japanese investors have invested their savings into foreign markets, including the higher yielding currencies of New Zealand and Australia (AUD). But this natural disaster has caused these Japanese investors to bring their currency back home, as they fear they will need it to help rebuild. And this repatriation of funds has been even more pronounced for Japanese companies who are moving their reserves back into their home currency.
---