Who will buy Japan's bonds?
(Read article summary)
Japan desperately needs to sell bonds to rebuild its infrastructure, but nobody's likely to want them.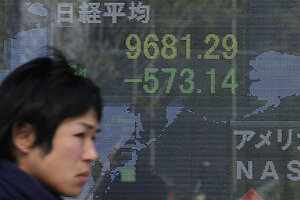 Eugene Hoshiko / AP
The world seemed to hold its breath yesterday. People watched videos of the tsunami…of the earthquake…of the nuclear reactors. Japan's nuclear reactors were on the verge of a meltdown.
Here at The Daily Reckoning, we predicted a meltdown in Japan – but not that kind of meltdown!
In January, seers and forecasters turned in their predictions for the year ahead. Now, we are in March, and we have already run into two major events that no one predicted.
First, the Arab world exploded. Now, the blow-ups are happening in the least-explosive part of the world, Japan.
Japanese stocks sold off yesterday. If they were a bargain when we recommended them a couple weeks ago, they are an even bigger bargain today. US stocks didn't do much of anything.
Perhaps some kind of turning point has been reached.
Japan has been suffering from a manmade disaster for the last 20 years. It is a long, slow, painful form of national economic suicide. Now it is time to pick up the pace. This from Bloomberg:
The Bank of Japan poured a record amount of cash into the financial system and doubled the size of its asset-purchase program to shield the economy from the effects of the nation's strongest earthquake on record.

The central bank pumped 15 trillion yen ($183 billion) into money markets to assure financial stability amid a plunge in stocks and surge in credit risk. Governor Masaaki Shirakawa and his board also increased their facility that buys assets from government bonds to exchange-traded funds to 10 trillion yen.

"We are providing as much funds as needed to dispel anxiety in financial markets," Kazushige Kamiyama, an official in charge of the central bank's money market operations, said before the policy announcement. "We will continue to add ample funds to stabilize financial markets."
---