US economy sat on a wall, US economy had a great fall
(Read article summary)
Since it fell, the economy has been shoddily glued back together. But it still has more cracks than Humpty Dumpty.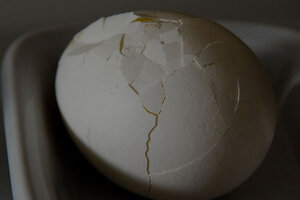 Alexis C. Glenn / UPI / Newscom / File
Stocks soared and bond yields bounced yesterday. If we didn't know better, we'd imagine that economic conditions were pretty darn good. But we do know better…
America's economic recovery contains more cracks than Humpty Dumpty…after suffering his "great fall."
Somehow, all of Bernanke's horses and men managed to slather enough monetary glue onto the fractured pieces of our economy to hold them all together. But the reconstructed economy does not look very much like the original one. Humpty Dumpty is now a Picasso.
While it's true that a few "headline" economic numbers – like GDP growth and industrial production – are flashing signs of recovery, numerous other data points are flashing red. Net-net, this recovery is suspect. What's more, every economic uptick seems to coincide with an inflationary uptick.
Quantitative easing has certainly stimulated some facets of the US economy, but it has also stimulated speculation in the financial markets and unleashed a dangerous inflationary trend… And that's probably not a good thing. Historically, inflation has been the enemy of both economic growth and share price growth.
We trust history to repeat itself.
"Perhaps the most important event that the stock market will have to contend with is the end of quantitative easing," observes David Rosenberg, Chief Economist and Strategist at Glusken Sheff. "[There's an] 86% correlation over the past two years between movements in the Fed balance sheet and the direction of the S&P 500. This will come home to roost before long…"
In other words, whenever Bernanke's quantitative easing programs come to their inevitable end, the Federal Reserve Chairman must withdraw the liquidity that has been fueling the stock market's gains. The Fed's balance sheet will contract…and stock prices are likely to do the same.
---