Bulls, bears...and Chihuahuas?
(Read article summary)
Chihuahuas enjoy the moments of sunshine before the rain pours. Investors should do the same.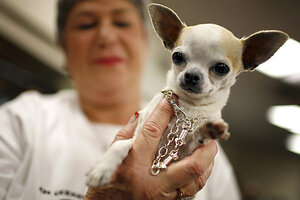 Mike Segar / Reuters / File
Investors always talk about bulls and bears…but no one ever talks about Chihuahuas. Maybe they should. The Chihuahua in your editor's household, "Tango," spends most of his time finding the warmest spot on the floor…and sitting there…until someone offers him food or some other enticing attraction.
Tango doesn't worry about much of anything. When he's out and about, he trots along the sidewalk, darts in and out of the shrubs, chases after birds and generally enjoys himself. And when he's not out and about, he's lying on some sun-drenched floor tile.
Tango doesn't fear much – not even much bigger dogs – but he's terrified of the rain. So when you add it all up, you get a happy-go-lucky little pooch who loves sunshine and hates rain.
Investors could do worse than to "be a Chihuahua." Find the sunshine and repose…until the rain clouds begin gathering.
Throughout most of the global financial atmosphere, the barometric pressure is dropping. Scattered clouds are encroaching upon what has been a delightful two-year run of warm, sunny weather. Japan is radioactive; the Middle East of hyperactive; and most of the Western world is insolvent.
Thankfully, a few select companies are providing selective investment opportunities. But even selective investors must pay close attention to the clouds overhead. There aren't a lot of breezy cirrus clouds these days; it's all nimbus. The US economy is visibly slowing down, while the growth rates of places like China, India and Brazil are contracting.
---