Inflation is wrecking economic recovery
(Read article summary)
Prices are rising, and consumers are losing their spending power. Are the Fed's inflationary policies backfiring?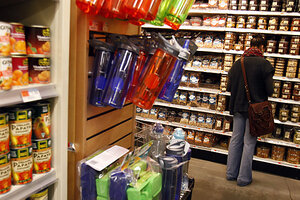 Shannon Stapleton / Reuters / File
Oh what a wicked twist…
What a nasty turn…
What a bummer!
Now, consumer prices are rising. The feds wanted inflation. Apparently, they've got it. The latest figures show consumer prices rising at 0.5% per month. Doesn't sound like much. But multiply by 12. It's over 6% per year.
Producer prices are going up even faster – at a 20% annual rate, if you extrapolate from last month.
Of course, one swallow does not a springtime make. And maybe these early birds of inflation will prove to be loners. We won't know for a while. But prices on energy, food, and auction-priced goods are definitely going up.
And as they go up, consumers are left with less spending power. Instead of encouraging the real economy forward, inflation is pushing it back.
Instead of causing more spending, the higher prices are absorbing what little purchasing power households had left. Instead of increasing demand, inflation is reducing it.
Let's go back:
The real economy depends on two major things:
Jobs. And housing.
Most people spend money that comes directly from their jobs. And most of their accumulated wealth is in their houses. Neither looks good.
Here's a little note on the job situation:
Massachusetts employment organization has canceled its annual job fair because not enough companies have come forward to offer jobs.

Richard Shafer, chairman of the Taunton Employment Task Force, says 20 to 25 employers are needed for the fair scheduled for April 6, but just 10 tables had been reserved. One table was reserved by a nonprofit that offers human services to job seekers, and three by temporary employment agencies.

Shafer tells the Taunton Daily Gazette the lack of employers means the task force won't have enough money to properly advertise the fair.
---