Gold will become money again
(Read article summary)
Until recently, it was unfathomable to many that gold would become a more preferable currency than the US dollar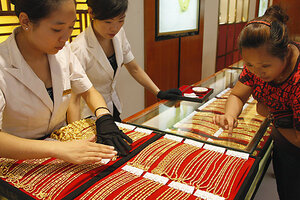 Reuters / File
On the night our documentary I.O.U.S.A. made its nationwide premiere in August 2008, the film was followed up by a live panel discussion, broadcast via satellite. Our friend David Walker, the former US comptroller general and "star" of the film, took part…along with several other luminaries.
At one point, the question was asked: Might America's trading partners one day sell off their US Treasury holdings?
Impossible, said Warren Buffett. In fact, he insisted, they couldn't…because they'd need to convert it into some other currency, which would be little better than the dollar. No one else chimed in to challenge the assertion.
"Buffett's answer assumes that there is no alternative," author, friend and local Baltimore resident Bill Baker writes in his 2009 book Endless Money: The Moral Hazards of Socialism, "because for generations, all the world's currencies have been backed only by the promise that governments would accept them in payment of taxes.
"But that ignores a currency that has been used effectively by man for thousands of years: gold. China and other countries might exchange their US dollars for it now."
Indeed, China is quietly building its gold reserves. They totaled 600 metric tons in 2004. Then in April 2009 came an announcement they'd grown to 1,054 metric tons. And the buzz from Beijing is that the central bankers want to grow that stash another tenfold.
---