Ben Bernanke, are $5 Wheaties a fluke?
(Read article summary)
Ben Bernanke and the Fed are trying to figure out if there is any funny business with price increases. But Ben Bernanke should see that the problem lies with Fed monetary policy.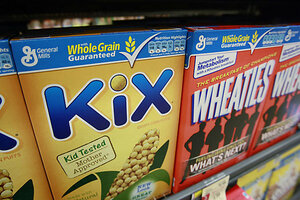 Paul Sakuma / AP / File
We've always wondered why there is so much debate about the rate of inflation. It seems like such a simple thing to track. You go in the store. You buy a box of Wheaties. You write down the price. Next month, you do the same thing. What's so hard about that?
But what if the box is smaller next month? What if the Wheaties are twice as good? What if you can get the same enjoyment from a box of Wheatie-Puffs at half the price?
What's the real rate of inflation? It depends on how you figure it. The Labor Department shows consumer price inflation at barely over 2%. John Williams' ShadowStats puts the figure close to 8%.
We say "close to" and "about" because the numbers are never more than approximations; no point in dressing them up with decimals as though they were precise and reliable.
But comes now MIT University with a project to track prices by monitoring them on the worldwide web. Instead of creating a small sample of prices and checking them periodically, the Billion Prices Project looks at a huge number of prices from all over the web, in real time.
The resulting numbers may not be perfect, but there sure are a lot of them. Using such a huge volume of price information, the Billion Prices Project is probably the most reliable measure of consumer price inflation developed so far.
So, you're probably wondering… Well, what's the story? How much consumer price inflation is there?
Over the last 12 months, prices have gone up 3.2%, say professors Alberto Cavallo and Roberto Rigobon, who developed the index.
---