The pain of restoring investor confidence
(Read article summary)
Americans and Europeans have bailed out banks, run public deficits, and added to debts. What will it take to restore investor confidence?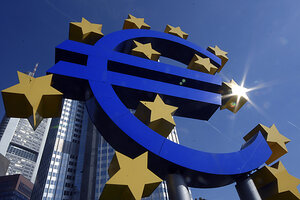 Bernd Kammerer / AP / File
Yesterday, the Dow continued to fall – down 130 points. Oil slipped lower too. And gold rose. Just as you'd expect. But two days a trend does not make.
And what's in the news this morning?
"Europe left reeling as the people revolt against austerity measures," says a headline in the TIMES.
Spain's ruling Socialists got hammered at the polls. Borrowing costs are rising – pushing Italy, Spain and Greece closer to default. There is really no way out. The IMF – under DSK – made things worse by lending more money to governments that can't pay it back. And now, day by day, the whole smelly pile of European government and bank debt gets closer to the fan.
Of course, debt deflation – writing down, defaulting, foreclosing – is what a Great Correction is meant to do.
In America, except at the household level, the authorities have been able to push off the moment of truth…apparently indefinitely. The feds have a 'little technology called the printing press.' And they're ready to use it!
In Europe, it's not so easy. The Germans don't want to see their cash cheapened so that the lazy Zorbas, carefree Guidos, and sun-browned Rauls can continue to live in a style to which they have become accustomed.
Naturally, the Greeks are miffed. A Reuters report provides more detail:
…a large majority of Greeks reject more austerity, according to a poll published on Saturday, which also shows the ruling socialists losing their lead versus the conservative opposition for the first time since their 2009 election victory.
---