As oil prices rise, your asparagus gets tougher
(Read article summary)
Residents of developed nations rely on oil for almost everything, even the appearance of our lawns and the quality of our vegetables depend on it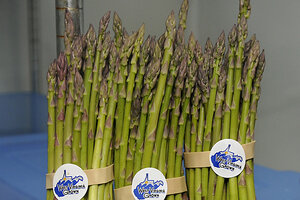 Chris Dorst / Charleston Gazette / AP / File
Well-traveled asparagus…and the US in recession…
Markets were closed in the US yesterday. We didn't bother to look at what happened outside the US.
We were tired. After traveling to China, Switzerland, England and France…we had run out of gas.
But yesterday, Memorial Day in the USA, gave us a time to fill up the tank.
First, we fired up the lawnmower. Then, we got the weed whacker working. Next, it was time to start the tractor, attach the bush-hog, and begin cutting the fields.
Each of these devices requires oil and gasoline. So, we thought again about how our standard of living depends on the black goo… And we began to think of what would happen if the average suburbanite in Shanghai or Beijing also began to mow his lawn on weekends.
This is hardly a novel thought. Economists have been writing about it for many years. The emerging markets are bound to use more energy. And the price of energy is more than likely to go up.
Standards of living in the emerging world are bound to go up too as people put a little more energy into their lives. They will inevitably benefit from more locomotion and refrigeration. Maybe they will soon be using leaf blowers too.
---