Natural gas booming in Asia
(Read article summary)
Natural gas is becoming an increasingly popular source of energy in Asia. Soon, Australia may compete with Qatar as the biggest exporter of liquefied natural gas.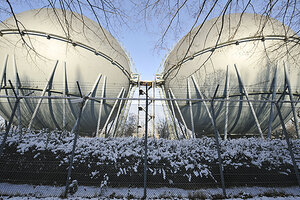 John MacDougall/AFP/Getty Images/Newscom/File
Even before the Tohoku earthquake and tsunami reminded the world that nuclear power is not risk-free, the liquefied natural gas (LNG) market was booming in Japan. In fact, the LNG market has been booming throughout Asia for the last several years. That's good news for Australia…and for a variety of companies that serve the LNG industry.
Currently, Japan is the largest buyer of LNG. Japan and South Korea together make up 53% of current global regasification capacity. (That is, the ability to import LNG and turn it back into a gas for consumer and industrial use.)
Pressed against this new demand is an aging supply base in places. For instance, there are old LNG fields in Malaysia and Indonesia coming to the end of their useful lives.
So how will the market meet this surge in Asian demand? That's where LNG from nearby Australia comes in. It's hard to miss this story when you take a look at the Australian resource markets. It's in the papers nearly every day. And the amount of money flowing into these markets is just staggering.
---