We could use a little economic disaster
(Read article summary)
The recovery is stalling because the government intervened too soon. A little disaster goes a long way to wipe out bad business.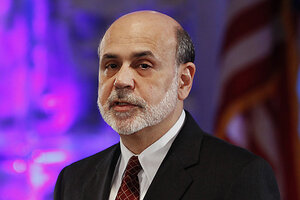 Kevin Lamarque / Reuters
More Disasters, Please!
Whoa. Tuesday's gains had disappeared before traders' coffee had gone cold, yesterday morning. The Dow ended the day down 173 points…signaling what looks like a 7th straight week of losses. Stay tuned.
Oil ended the down at $95. The dollar went up.
The trouble with the financial catastrophe of '07-'09 was that there wasn't enough of it.
"What recovery?" asks TIME Magazine this week.
There is no recovery. Of course, you knew that, dear reader.
But what no one seems to know is 'why'. So we'd like to make a small contribution to the intellectual life of the economics profession and the popular understanding of the events before, during and after the crisis of '07-'09. That is, we'd like to explain.
How come the economy is so listless? How come there are so few jobs? How come house prices are falling?
We'll tell you. Because the dopes running economic policy didn't give catastrophe a chance! Instead of letting disaster wipe out all the bad investments, bad investors, bad bankers, and bad businesses, the feds pumped in money to keep them going. Well, guess what. They're still going!
Four years after the crack up in the US subprime debt market, there is still no sign that things are getting back to 'normal.' Growth rates are low or negative – 1.8%, 0.5% and minus 3.5% in the US, Britain and Japan, respectively. Decent jobs are hard to find. Household earnings and balance sheets are sinking.
---