Debt is a bummer, on both sides of the ocean
(Read article summary)
The US has much to learn from Europe's debt crisis, but instead, we look the other way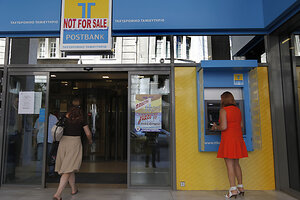 Petros Giannakouris / AP
Debt on one side of the ocean is little different from debt on the other. But most investors don't seem to see it that way. Instead of learning from the tribulations of their cousins in Europe, they greet the news from the Old World with alarming complacency.
This is too bad. Because the European story tells us something important about the way a debt crisis works. And it gives us a "heads up" about what will happen on a much larger scale in America.
Debitum delenda est: Debt must be destroyed. And the process of destroying – defaulting, hair-cutting, writing down, writing off, going bust – is as painful as it is unavoidable.
The millstones of debt may grind slowly…but they are relentless. This week we watched them do their work on Greece. Sometime in the future, we'll see a sequel to the Greek story. It will be set in America. Greece has never been a reliable or faithful borrower. Instead, it has been a deadbeat – borrowing and then defaulting. It has been in default, in one way or another, during half of its history as an independent, modern nation.
But in the heady days following European unification and the introduction of the single currency, Athens seemed as good a credit risk as any other. Previously, lenders had been wary. They feared the Greeks would default, often by devaluing their currency, the drachma. So, lenders demanded higher interest rates to offset the risk of loss. This, of course, raised the cost of borrowing for the Greeks and generally held their spending in check.
---