On the prowl for insight into economists
(Read article summary)
The folks over at The Daily Reckoning are on a mission. Their treasure? Insight. Insight into why it is that the smartest economists in the world are so stupid. Incidentally, they hope to understand why the GDP is such a fraudulent measure of prosperity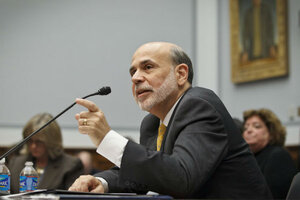 J. Scott Applewhite/AP
Yes, dear reader, we are working on a new book. And to save time and effort, we're working on it right here in the pages of the Daily Reckoning.
What's it about? Well, you might think that a writer has an idea… You might think he knows where he is going. Then, he sits down to write it. And that is certainly part of the story. But often the idea is more of an intuition…a vague feeling…a hint that there is some place where it is worth going, in hope of finding treasure. Where? What treasure, exactly? Often, the author doesn't know.
The treasure we're looking for is insight. We're trying to understand why it is that the smartest economists in the world are so stupid. Â Incidentally, we hope to understand why GDP is a fraudulent measure of prosperity…and why central banking is a failure…and why the governments of the developed countries are doomed.
There is one simple idea that explains all of this…an idea that is both intuitively self-evident…and demonstrably unrelenting. But we'll come to it in good time…let's get back to economists:
Does Ben Bernanke really think he, personally, can improve the wealth and well-being of the world's people by tinkering with his interest rates and bank policies? Apparently so…
Do Stiglitz, Krugman et al really think they can help the debt-soaked economy to grow by giving it more debt at a cheaper rate? Yes…that's what they say…
Does Jeffrey Sachs actually believe that he and other smart economists can develop a strategy for the entire world economy? That's the way it looks…
Yesterday, we took up the role of numbers. The greater the precision, we asserted, the greater the lie. Why? Because these economists really don't know anything for certain. The best they can do is observe…guess…and hedge their bets with a 'maybe' or a 'possibly.' The more precisely they claim to know something for sure…the greater the distance between what they can actually know and what they claim.
---