Be patient with your business model
(Read article summary)
There are multiple stages of starting a new business. It is important to be successful in the early stages before moving on to later steps in the process.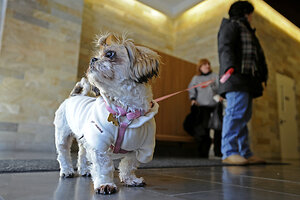 Ann Hermes / Staff / File
Author and entrepreneur Steve Blank describes the business start-up process as having two phases.
In the first, entrepreneurs learn about their customers and what they want. This can be thought of as a series of experiments with real customers. It eventually leads to a business model that can be used to build a sustainable venture.
Once we learn what our business model needs to be, we can begin the second phase, which includes attracting more and more customers and building a company.
It is essential that we take our time before moving to the second phase to make certain we're building our company around a business model that can lead to successful growth.
Nashville-based Aloompa is a great example of a business that's taking its time to get things right.
In a visit to my business school class at Belmont University, two of the founders, Kurt Nelson and Tyler Seymour, told how they developed the business model for this relatively young company.
The original vision was to develop apps that would allow streaming of live videos directly to the iPhones of concertgoers. But this proved to be more difficult than they thought. However, their experimentation with the business model led to recognizing a more promising opportunity that still involves apps for music events.
They approached the Bonnaroo music festival about developing an app for attendees. To prove to Bonnaroo that the app would be something of value, they gave away the first year's version.
They used that first year to prove that the app had value and to test what features fans at the festival truly wanted.
Their success with Bonnaroo led to the sale of more music festival apps. With each new app they continued to engage the market, all of which helped them learn more about their business model and their customers.
---