Service (remember that?) can give small business an edge
(Read article summary)
Four in five Americans say small business places a bigger emphasis on service than big business. Now, make it a priority.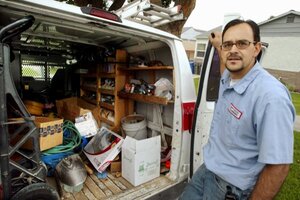 Robert Harbison / The Christian Science Monitor / File
Cutting costs continues to be one of the main tools businesses are using to survive the ongoing recession. But it is customer service that most often suffers from this practice.
While people tend to grudgingly accept poorer service from larger companies, small businesses need to remember that their service is what most often sets them apart from the big guys.
In fact, the most recent American Express Global Customer Service Barometer finds that 81 percent of Americans say that small businesses place a greater emphasis on service than large companies do. Big firms can almost always compete better when it comes to offering lower prices. And they also have much more to spend on advertising to attract customers.
For small businesses, though, it is most often service to the customer that offers a competitive advantage.
"Getting service right is more than just a nice (thing) to do; it's a must-do," said Jim Bush, executive vice president of World Service American Express. "American consumers are willing to spend more with companies that provide outstanding service, and they will also tell, on average, twice as many people about bad service than they (tell) about good service. Ultimately, great service can drive sales and customer loyalty."
There are three steps that small businesses can take to ensure good service.
First, hire people who are enthusiastic about customer service. Find people who have a history of customer service from their past work experience and who have a personality of wanting to please others.
Look carefully for these traits in employment interviews and use a probationary period of employment to verify that they will do what it takes to make your customers happy.
A strong desire to provide excellent service is not something that can be easily trained, so if an employee is not showing these traits early in his employment with you, be prepared to cut your losses and find someone who does.
---