Getting the entrepreneurial fire back
(Read article summary)
When pessimism about entrepreneurship starts to sink in, look to young people for unbridled optimism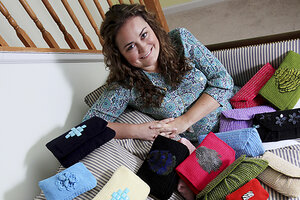 Eric Albrecht / The Columbus Dispatch / AP / File
I made a commitment a while back that I have slacked off on of late. I promised that no matter how rough things got, I would always try to come back to the entrepreneurial mindset in this blog...that the glass is always half full.
I realized recently that I have been a bit more, well, a bit more of a half empty guy of late. In retrospect, that may be why my blogging has been less consistent. It takes more energy to write about the top half of that glass. How many different ways can a scream from the mountain top, "High taxes, complex regulation and reduced property rights are killing the entrepreneurial class in the economy!!!!!"
The good thing about my job is that anytime I get into a half empty funk, I have my students to pull me into the refreshing half that is full. Full of ideas. Full of unbounded optimism. Full of creative energy. Full of hope for the future
The really cool thing is that there is not just one of them. We have dozens and dozens of them in our program.
Our students tend to fall in two basic categories. The first are aspiring entrepreneurs who are full of energy, but have no specific clue where they can or should focus there entrepreneurial energy. What makes them fun is that by helping them discover where opportunity comes from -- mainly change, that creates pain and chaos -- you can see them transform. That potential entrepreneurial energy explodes as their eyes open to all the opportunity that has been right there in front of them all along.
The second type of students are the ones with entrepreneurial A.D.D. There problem is not finding opportunity -- it is focusing long enough on just one of the myriad of ideas swimming in that half full glass long enough to get traction. What makes them fun is that they are like a wild horse. Once you finally break them, you can saddle them up and watch them run with a purpose.
---