Moving beyond the kitchen table
(Read article summary)
The first two things to do when your start-up business starts to grow: hire employees and get out of the kitchen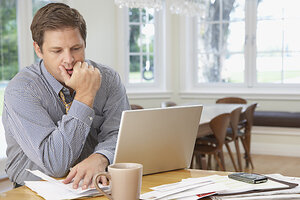 Photo illustration / OJO Images / Newscom
Bootstrapping is the name of the game for most startups. By keeping their expenses low, particularly overhead costs, entrepreneurs are able to start businesses with limited initial funding.
A bootstrapped startup also allows the entrepreneur to determine what the market really wants without having to lock in specific long-term expenses tied to a specific business model.
Once the business model has been tweaked enough that it begins to attract a significant growth in new business, the entrepreneur needs to shift modes and begin to create more formal form and structure to the business. This stage of development usually involves two major changes: hiring employees and moving into a legitimate space for the business.
However, walking over the threshold from bootstrapping and model testing to the commitment of adding fixed overhead expenses can be a frightening step.
"I think one of the struggles of starting a bootstrapped company is when to finally make the call to take on long-term commitments," said Kurt Nelson, a Belmont University alum and co-founder of Aloopma, a design firm with links to the Bonnaroo music festival.
"In the bootstrap world you fight to survive. You watch every dollar very closely. You sign short-term leases, hire freelance contractors and buy inexpensive desks and furniture that may not match."
But the extreme bootstrapping approach can only take a business so far.
One of the first big decisions is choosing when to move out of the bedroom, kitchen, coffee shop, garage, basement or wherever a business was formed during its startup days.
"Making the move into a legitimate office space is something that we put off for quite some time," said another former student of the Belmont University entrepreneurship program, Jake Jorgovan, co-founder of Rabbit Hole Creative, a firm that does unique digital advertising and event graphics. "The money we saved in overhead was money we were able to put back into our pockets and into growing the business."
---