Lots of entrepreneurs in the 'Internet Class'
(Read article summary)
A new school year is beginning, and on at least on one college campus, the freshman class has quite a few aspiring entrepreneurs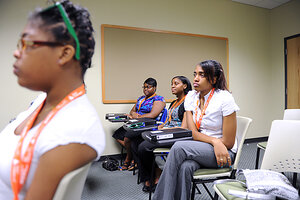 a80/ZUMA Press/Newscom/File
My favorite time of year. The beginning of a new academic year. (By the way, my office is the first bay window on the top floor up on the top right in the picture above -- stop by and visit sometime!)
When I left academics years ago to go into the private sector as a healthcare entrepreneur, I was shocked how much I missed the rhythm of the school year my first couple of years away from teaching.
This year's freshman class has moved into their dorms and are ready for their new beginning.
The Beloit College Mind-Set List has labeled the class of 2015 the "Internet Class". The authors of this annual list tell us that this year's freshmen have grown up in an age "when everything from parents analyzing childhood maladies to their breaking up with boyfriends and girlfriends, sometimes quite publicly, have been accomplished on the Internet."
We continue to see the entrepreneurial mind-set deeply rooted in this group.
Typically, we start with about seven or eight students entering Belmont intending to major in entrepreneurship. They are often are hard core group who are ready to hit the ground learning about all things entrepreneurship.
Over the four (or so) years until they graduate, their numbers usually grow to about 25-30 as more students from their class realize that where they want to go in their careers is a path defined by entrepreneurship.
This year's freshman class is starting out at about 20 students!
So now the forecasting fun begins. Will the class of 2015 grow by the typical 20 students? Or is the growth a multiple, and will they grow to 60-80 by their senior year?
Like any entrepreneur, I see this growth in our program as a good problem. But as an grizzled, road tested entrepreneur I know what fast growth can do if you are not careful!!
This year's freshman will find many improvements in our program.
We have fully implemented the shift in our curriculum to the business modeling approach. While business plans are still part of what they learn, they are positioned simply as a tool to communicate the business model to investors.
---