Shocker: Americans found a way to shop this year
(Read article summary)
Never underestimate the American consumer.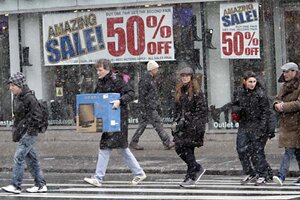 Mary Altaffer / AP
Pity the ridiculously out-of-touch retail bears who had so easily forgotten that America's true National Pastime is not baseball, football or Facebook. The thing that we will beg, borrow or steal to do, regardless of unemployment, is buy stuff.
Big stuff, little stuff, expensive stuff, cheap stuff, Apple stuff, Whole Foods stuff, dollar store stuff. Anything, just make it and we'll find a way to buy it - by phone, in-store or on the web. George Carlin told you about our obsession with stuff decades ago. And George was a lot of things, but he was never wrong in his observations of the culture.
Today's big story comes to us from the New York Times. Read it and weep, New Normalers:
After a 6 percent free fall in 2008 and a 4 percent uptick last year, retail spending rose 5.5 percent in the 50 days before Christmas, exceeding even the more optimistic forecasts, according to MasterCard Advisors SpendingPulse, which tracks retail spending.
---