Secrets to a Successful Blog: Content
(Read article summary)
This is the second in a five part series in which I'm laying out the secrets to successful financial blogging. There are always exceptions to any rule, but if you follow this stuff you will see that I'm right. This is a long post, but every word counts.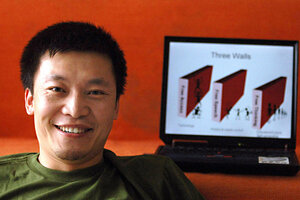 STR / AFP / Getty Images / File
Viewpoint: Let's start very simply by saying that the world doesn't need another content farm, especially in the finance vertical. If you're going to cover markets, companies, stocks, Wall Street and the economy then please make sure you have a point of view. We all get our news from Twitter and TV and you will never compete with The Business Insider or DealBook on straight up news coverage - they don't have day jobs - this is what they do and they do it well. They will always win on breadth and speed. What they don't always do well is news analysis and opinion. Journalists and full-time bloggers are sometimes outmatched in formulating the "why this matters" or in noticing connections beneath the surface. That's where we come in as industry practitioners on trading desks, at banks or in client-facing jobs.
Spouting Off: Do us all a favor and talk about stuff you know. If you don't understand the finer points of monetary policy or Federal Reserve history or securities analysis or bond trading or emerging markets, just STFU. You can cover topics that you aren't strong on the way I do - linking out to more knowledgeable sources and culling together a point of view based on the opinions of those you respect and trust. Like many of the great market commentators, I've chosen to make myself a generalist in the hopes that I might become one of the greats one day (you cannot possibly imagine the depth and scope of my ambition in this regard). If you choose to be a specialist in one area, you can probably build a really loyal following even faster than a generalist - but don't veer away from your raison d'etre too much once you've got that following - keep it real.
---