Does Sprint still stand a chance?
(Read article summary)
After AT&T announced that it is buying T-Mobile, Sprint needs to weigh its options and figure out how to stay competitive.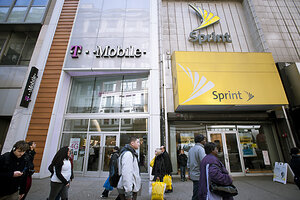 Richard B. Levine / Newscom / File
Tonight's question is a simple one...
Sprint has been left at the altar like a 1970's era Paul Tudor Jones. They're like the fat, ugly bridesmaid, squinting in the sun, boxing out all the other girls as the bouquet is tossed into the air.
First a quick look at the market share situation.
Writing at CNNMoney, David Goldberg basically says there are three options for the company:

1. Get bought by Verizon ($VZ publicly stated they have no interest)

2. Buy up all the smaller companies in a bid for scale

3. Stay the course
---