Can Research in Motion be saved?
(Read article summary)
The tech company, best known for BlackBerry, may be in need of some more guidance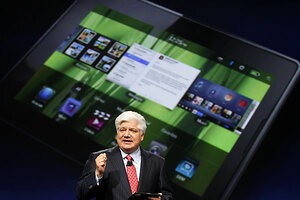 Robert Galbraith / Reuters / File
Tonight's Question: If you were the CEO of Research In Motion, what would you do to save the company's future?
First, some background, then your answer below...
All eyes are on Research In Motion ($RIMM) as it bounces off its 200-day moving average of $55.50 amid disappointment over its prospects in an iPhoned world.
Right now The Street thinks we are over-tableted and that RIM's Playbook offering will be DOA. In the meantime, Apple is eating into RIM's bread-and-butter corporate smartphone market with an iPhone available on AT&T, Verizon and soon enough T-Mobile.
RIM's dual CEO's sound increasingly erratic when making public pronouncements and everyone is looking at the single-digit Nokia, the vanquished original smartphone king as a cautionary tale for the maker of the Blackberry (or as I call it, the Canadian Calculator).
---