Inside the boiler room of currency trading
(Read article summary)
The average person who attempts to make money from trading currencies will likely be taken advantage of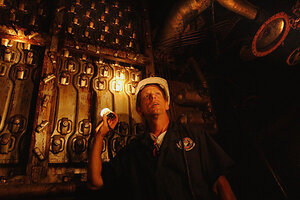 Bill Tiernan/KRT/Newscom/File
The online currency trading shops are modern-day boiler rooms.
I have absolutely no interest in mincing words or playing politics with this post. I am exercising my First Amendment rights and I intend to speak plainly.
I have been warning people for some time now that the average person shouldn't be attempting to trade currencies and that Forex is not an "asset class" for individual investors. After reading Andrew Bary's piece this weekend in Barron's I've never been more certan that I am right.
I am not arguing that making money trading currencies is impossible, I am saying that most people who try are merely being taken advantage of.
Let's skip the opinions and go straight to the facts:
Three quarters of people who trade with online currency firms lose money. 75%. That data comes from the firms themselves as they must now report this information to the CFTC.
Forex firms are seeing client attrition rates of between 15-25% a year versus only 5% from traditional online stock brokerages.
Retail players are trading through brokerages whose very business model is to act as a counterparty to them. Yet the marketing is predominantly of a "let us help you diversify into currencies" nature. Nice.
Industry-standard leverage levels, down from 100-to-1 to a still-absurd 50-to-1 automatically disqualify Forex as an "asset class" for investors. The more suitable categorization for this activity is gambling; it is more akin to OTB or the casino than to stocks and bonds.
The old-school boiler room brokerages operated in the exact same manner as the modern online currency firms do today.
---