Like the once mighty Incas, we have lost our leaders
(Read article summary)
This spring, market leaders that we used to count on for good performance, like Apple, Silver Wheaton, and Goldman Sachs, are starting to slip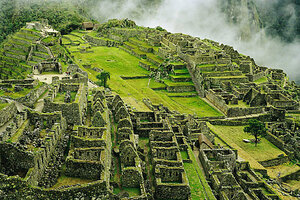 Casa Editorial El Tiempo/El Tiempo de Colombia/Newscom/File
In 1532, the Inca Empire ruled over almost the entire Western half of the South American continent, from Southern Colombia through Peru to the southern tip of modern-day Chile. It had between 6 and 9 million inhabitants. Upon his arrival at Cajamarca, Francisco Pizarro captured the Inca leader, Atahualpa, rather than fight an army of thousands.
With the leader taken out, Pizarro was able to conquer the entire Inca Empire with just 169 soldiers.
Like the once-mighty Incas, we have lost our market leaders this spring one by one. In like fashion, we've seen the indexes fall into a listless submission as the stocks we once looked to for higher highs can no longer rally their brethren...
Apple is some $30 off its high (10%) for the first time in, well, I can hardly remember. The usual concerns about Steve Jobs' health have been compounded with the sense that Google's Android is going to give iPhone a serious run for its money.
Speaking of Google, the company is now in the throes of a mid-life crisis way earlier than anyone expected...and its ugly to watch. While the company continues kicking ass in search and ads, the unstoppableness and swagger are gone, too much inertia for too long.
---