Focus on what the market is doing, not why
(Read article summary)
Focusing on stock market action and fundamentals is probably a better bet right now than seeking explanations, Brown writes.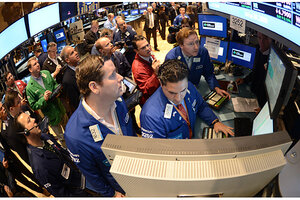 Henny Ray Abrams/AP/File
There seems to be a debate about what's causing the continued market malaise right now, at a time of year when stocks are typically in rally mode.
One camp blames "Fiscal Cliff Fears" while another says this is all about Euro weakness and the latest Greek deal that no one seems to be satisfied with.
The reason people work so hard to ascribe "The Why" to market action is because they can then make a decision once that Why goes away. In other words, if you believe the market is down on Fiscal Cliff stuff, you would then be a buyer when signs appear that an agreement will be made.
To me, The Why is not worth debating. Focusing on market action and fundamentals is probably a better bet right now than seeking explanations. The What is the thing, The Why will only matter to the textbook writers years from now. 
---