Never make these 10 career mistakes
(Read article summary)
Avoid these 10 things in your work, and you can expect a successful, fulfilling career.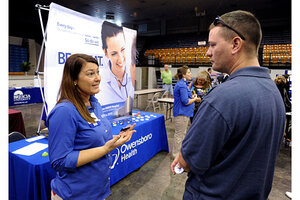 Gary Emord-Netzley/The Messenger-Inquirer/AP/File
Never sell a service or product that you cannot deliver. Never sell a service or product that the buyer doesn't absolutely need or love. Be essential or desired, not annoying and unnecessary.
Never work for someone who isn't as smart as you are. Or plan your exit the moment you figure out that you have learned all you can and that you are now the smarter one.
Never work for or with people with a lesser moral code than your own. Be aware of how your colleagues feel about doing the right thing. You should watch how they prioritize it. Once you determine that the moral failings of the people around you are systemic and indefatigable, it's time to get going. If you can fix a bad situation, by all means try. If you can't, reserve judgment and simply say goodbye.
Never work in a career that relies on opacity, obfuscation, rhetorical fallacy or sleight of hand. There are plenty of people who can do this sort of work, fooling their neighbors and customers or tricking them into transactions that aren't what's in their best interests - the key is to not be one of them. Those who engage in this sort of work are either sociopathic or trapped because of financial circumstances or too stupid to have thought the consequences of their career choice all the way through.
Never cut any corners, there is no such thing as a free lunch and everything has a cost, even if you can't see it right in front of you. Riskless reward is a desert mirage.
Never pursue something that you really don't want in the first place just because you think you have to. You don't have to and it won't work out anyway. Successful people become successful because they are doing what they love and have a talent for.
---