I'll tell you what I want, what I really, really want...
(Read article summary)
There are wants (might buy) and needs (must buy). But what about the things I don't actually need, but really, really want?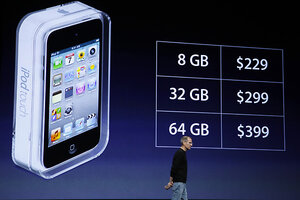 Paul Sakuma / AP / File
I received an iPod Touch as a Christmas gift in 2008. Since then, I have used and absued the thing at a level perhaps beyond what Apple ever intended. I've used it as a constant pocket notebook. I've used it as a podcast and music player every time I go on a walk (usually several times a week). I also use it as a pedometer to help record my exercise. I've used it to check email and reply to it. I've used it to entertain my children and for music in the car on long car trips.
A few days ago, on a long walk across town, my long-used and long-abused iPod Touch finally bit the dust. I was holding it in my (slightly sweaty) hand and dropped it. When I picked it up, it wouldn't boot. I took it home, called the Apple Store, and they offered to perform surgery on it. Before I took it in, I tried everything I could find online to fix it, to no avail. After examining it, the person at the Apple Store told me that the motherboard and the battery were both shot.
What's next? Do I buy a replacement (getting 10% off by trading it in), do I find a very low-end mp3 player for something to listen to while I'm walking, or do I buy nothing at all?
Clearly, such an item is a "want" item. I will continue to survive just fine without such a device, as I had for many years before having it.
The real question is when does something you want elevate to the level of a worthwhile purchase?
I don't think there's an easy answer to that question, and I think different people are going to come to different conclusions. When I'm thinking about such a non-essential purchase, I ask myself the following questions.
---