Online job postings and more: How the Internet can make and save you money
(Read article summary)
Online job postings put Craigslist on the map, but it's also a great way to sell items or to find a new housemate (question 1 from the Reader Mailbag). Want to make money off the Internet? Blog (question 8). Want to save money on cable? Download movies on Netflix (question 9).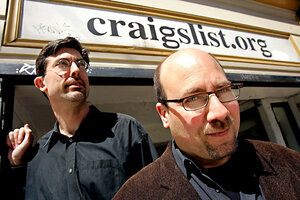 Jeff Chiu / AP / File
What's inside? Here are the questions answered in today's reader mailbag, boiled down to five word summaries. Click on the number to jump straight down to the question.
1. How to find a housemate
2. Getting neighbors involved
3. Building credit from nothing
4. Charities and taxes
5. A 203(k) mortgage
6. Suggest some board games
7. Investing extra money
8. Writing online for money
9. Giving up cable for Netflix
10. Dealing with bad credit
Due to some medical results and the recommendations made to me because of them, I've been eating a plant-based diet for a month now (that's right – no meat or animal products, at least as far as I could reasonably tell).
It's actually been easier than I thought it would be. The first two weeks were the hardest. At this point, I'm not really bothered by it at all, though cheese still sounds really good. I really wonder if I'll feel the same way in a few months.
---