Book review: The Cheapskate Next Door
(Read article summary)
Every Sunday, The Simple Dollar reviews a personal finance book or other book of interest.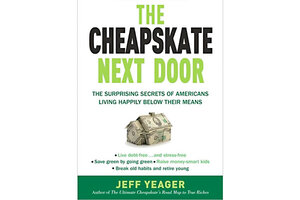 Crown Publishing Group
A few years ago, I reviewed Jeff Yeager's excellent book on frugality The Ultimate Cheapskate's Road Map to True Riches. Quite simply, it was one of the best books on frugality I've ever read, with a healthy dose of humor and a lot of useful tips.
His follow-up, The Cheapskate Next Door, appeared on bookshelves earlier this year and I was quite happy when I was able to pick this one up from the library, given how much I enjoyed Yeager's first book.
This new book involves Yeager interviewing other "cheapskates" and discussing some of the tactics that others use to practice frugality in their own lives. He also draws some general conclusions about frugality that are based upon these interviews.
Sound interesting? Let's dig in a little deeper.
1 | The Phrenology of Frugality
Yeager opens the book by defining sixteen key features that define a "cheapskate mindset." I find most of them quite agreeable, particularly "a cheapskate values time more than money" and "shopping isn't a cheapskate sport." In fact, I would define these traits as being more about being thoughtful about your money than being a "cheapskate." In fact, in my eyes, Yeager often uses the word "cheapskate" when I would use the word "frugal" – the only time he seems to veer into what I would call being a cheapskate is when he is obviously joking or being sarcastic.
---