Handling the 'estate meeting'
(Read article summary)
As families come together during the holiday season, you have an opportunity for the too-easily-avoided 'estate meeting.'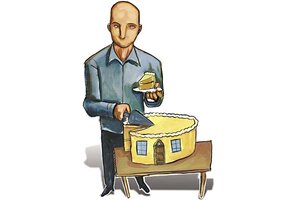 Illustration / Guillermo Munro / Dallas Morning News / Newscom / File
Sometime during this week, I'm planning on sitting down with my siblings and my parents and hashing out the specific details of their estate – who will be the executor, how it will be split up, and so on.
My parents don't have a large estate, but they do have a number of personal items that different individuals are going to want. Some of these items have significant value. I am almost sure that there are going to be some hurt feelings by the end of this meeting and, frankly, I wouldn't be surprised if the discussion was quietly postponed.
But not by me.
Having watched this process begin to unfold – and having watched similar processes unfold with other families that I care deeply about – and coupling that experience with a lot of personal finance reading, I've come to a number of conclusions about this process that I thought I would share with you today. Perhaps, during the coming week, this will give you food for thought as you meet with your family.
Don't put it off. Don't. This is going to be a difficult discussion for many families, and it's often tempting to postpone the discussion so that the day can be pleasant instead of challenging. Don't. Every time you postpone, you put your estate at risk of being handled by the court system instead of according to your wishes. Not only that, you're allowing the concerns of others in your family to go unresolved, too. Don't let the problem just sit there – solve it, together.
Don't exclude anyone. Everyone who has a stake in the situation should be involved in or at least aware of the decisions involved. This can be quite difficult, but the ramifications of not doing it are worse. By excluding some, you're ensuring infighting, mistrust, and anger among those involved. While doing it face-to-face is not a perfect antidote, it at least can minimize the problems that can arise.
---