Out with the old, in with the new: Calculate your net worth
(Read article summary)
In December and January, The Simple Dollar is posting a daily series focusing on specific activities you can do right now to set the stage for a great 2011. Out with the old, in with the new.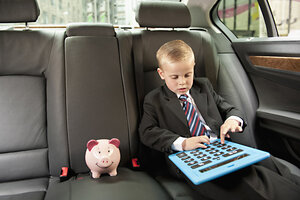 Photo illustration / Les and Dave Jacobs / Newscom / File
I've always seen the five weeks between Thanksgiving and the new year as a time for reflection and for setting the stage for a successful year to come. It's usually full of time spent with family and time spent preparing for those family events, too.
This year, I thought I would fill the month of December with a collection of the kinds of activities and preparations that I undergo during this period, both to put some closure on the year that passed as well as set the stage for an even better year to come.
Some of these will work for you. Some won't. Nevertheless, give as many of them as you can a try. You might find that it'll put you in a better place than you ever expected.
1. Calculate your net worth.
In my experience, there is no better snapshot of your financial health than your net worth. With one single number, you can get a glimpse of your financial state, good or bad. More importantly, by calculating your net worth on a consistent basis and comparing the numbers, you can get a sense of whether you're making positive financial progress or whether you're regressing.
There's no better time than right now to get started. Here's what you need to do.
Make a list of all of your assets and their values. How much do you have in all of your savings accounts? Your checking accounts? Your investment accounts? College savings? Retirement savings?
Some people also choose to include assets such as their automobiles and their homes. I generally think automobiles are a poor idea to include because they're difficult to value properly and they're not easily liquidated for most people, as they need some form of transportation. It's up to you whether or not to list your primary residence's value – I don't list it on my own calculations.
The important thing is that you use a standard, so that when you calculate your net worth again, you'll be able to make a fair comparison.
Make a list of all of your debts and their balances. How much credit card debt do you have? What's your mortgage balance? What about auto loans? Personal debts?
---