Emergency fund: Paranoid or practical?
(Read article summary)
What is an emergency fund, how big should it be, what should you use it for, and when are you just hoarding cash?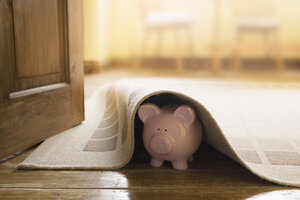 Photo illustration / Dan Brownsword / Cultura / Newscom / File
Right now, our emergency fund would cover ten months' worth of living expenses for our entire family. This is, of course, assuming that Sarah and I are both jobless (though able to care for our children) and that I'm earning absolutely no income from The Simple Dollar. We would be able to pay our bills from our cash reserve for ten months in this situation.
First of all, how did I build that up? The truth of the matter is that Sarah and I are both pretty frugal. Our only outstanding debt at this point is our mortgage and we minimize our spending in other areas. Over the course of running The Simple Dollar, we've done a lot of little things to reduce our spending, from air sealing our home to putting in a programmable thermostat and mastering the use of our kitchen. Beyond that, we've both reached a point where our frivolous spending is pretty small. I would not be surprised if I spent less than $100 out of pocket on things that aren't basic requirements in 2011. Truly, I don't feel like I need anything, and my wants are pretty minor as well. When you don't spend, you accumulate.
(It's also a sign that "ten months' worth of living expenses" isn't nearly as much money as you might think it is. It covers our mortgage, our bills, and about $350 a month for food.)
Here's the thing, though. A great deal of that accumulation is just sitting there in cash form. Rather than putting a significant portion of it into investments, I keep it for an overly large emergency fund.
Is that a good thing (better safe than sorry) or a bad thing (being too overcautious is keeping me from reaping rewards)? Well, let's walk through that question step by step.
What's an Emergency Fund?
Simply put, an emergency fund is some amount of cash you have in reserve to handle life emergencies. If you lose your job, your emergency fund is there to help with the bills. If your car's transmission starts dragging on the ground, your emergency fund helps with the repair bill. If your sister shows up on your doorstep in tears and you find yourself with an unexpected house guest to feed and clothe for a month, your emergency fund is there for you.
---