Minivans a good family-car buy?
(Read article summary)
Minivans aren't cheap, but they may be worth it for your family (Question #4). Also in today's Reader's Mailbag: saving for school (#1), splitting mortgage payments (#6), and finding a credit union (#8).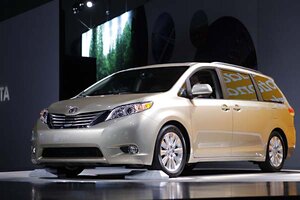 Photo illustration / Jae C. Hong / AP / File
Q1: Saving for education
Currently I am 26, my husband is 27. We both work but he is in the construction industry so is laid off usually every winter. He does a paper route and collects unemployment, so he still brings in about $35,000 a year, often more. I make $30,000 a year, plus I have a weekend job (tipped) where I bring in maybe $500 a month. I have ten percent going in a Roth, by husband has 6 percent going into a Simple IRA. His retirement balance is about $6,000 while mine is $12,000. Because I am somewhat unimpressed with our retirement account provider through my work, I have a seperate Roth with Vanguard that is holding steady at $7,000. We have $130,000 yet to pay on our mortgage. We have no children but would like to start trying in a year or two. My question is this: I have $12,000 in a savings account (ING) that I'm saving for tuition. I am in a Master's program for Public Relations – it is a two year program that will cost me about $50,000 when all is said and done. I've already paid the first semester ($7,000). I've received one $3,000 scholarship but my work is not contributing at all. I believe my job prospects will improve vastly when I have my masters, however I have never taken out a student loan and don't want to. It may be a possibility to borrow money from my mom to pay tuition. Should I knock down our retirement contributions so I can pay for tuition as it comes, or just keep saving and hope we can scrimp enough to pay tuition each semester? I hate to stop contribution to retirement at the pace I'm at – I am so proud of our retirement savings. I am fine paying our minimum mortgage as we started at $150,000 just five years ago and have paid an extra thousand or more each year up until now.
- Jill
It seems as though you have a clear goal and your only real concern is whether or not you should redirect your retirement savings into additional savings for this goal.
---