Want to eat great and spend less? Cook at home. Start by rejuvenating your pantry.
(Read article summary)
In December and January, The Simple Dollar is posting a daily series focusing on specific activities you can do right now to set the stage for a great 2011. Out with the old, in with the new.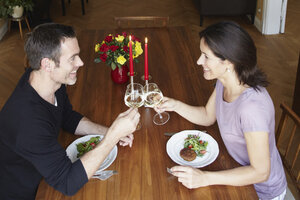 Photo illustration / Emely / Cultura / Newscom / File
Clean out your pantry and restock it.
One of the biggest money savers I've ever found is simply cooking at home. There was a time in my early adult life where I ate out for almost every meal. I'd eat out for breakfast, picking up a bagel and some coffee. I'd eat out for lunch with coworkers. I'd eat out for dinner with my wife or, sometimes, with friends. I rarely ate at home.
Over time, though, I slowly started moving towards making my own meals. At first, it wasn't because of a financial benefit – it was simply due to a growing interest in food preparation, brought on by reading food magazines and the like.
It took some time to get skilled enough that I felt ready to prepare meals off the cuff in my kitchen. Early on, I burned everything and didn't understand the need for slower cooking, but as I improved, I found myself making all kinds of things, from coq au vin to from-scratch lasagna (including the noodles).
What I discovered along the way is that the more conducive your cupboard contents are to cooking things from scratch at home, the easier it becomes and the more likely you are to do it. If all you have in the cupboard is random prepackaged foods that, frankly, don't taste all that good or only some of the stuff you need to make things at home, then you'll find that it's much harder to convince yourself to just go home and throw something together for dinner.
So, how do you get from typical cupboards to this?
The first step is to clean out your cupboards and take stock of what you have. Pull everything out. Cover your floors and tables with boxes and bags and containers. Group them in whatever ways make sense to you.
As you go, throw out the outdated stuff. Trust me, you have stuff that's old in your cupboards. Spices that have sat in there for more than a year. Canned and boxed foods past their expiration date. Flour that seems to have some sort of infestation. Get rid of all of it now.
Once you have all of this stuff out there, commit to eating some of the boxed foods and give away the rest. Yep, take it down to the food pantry and give it away if you have an abundance of it. Pass it on to someone who can actually use it before the expiration date.
---